This is 'Fantastic Realism' artist Kris Kuksi.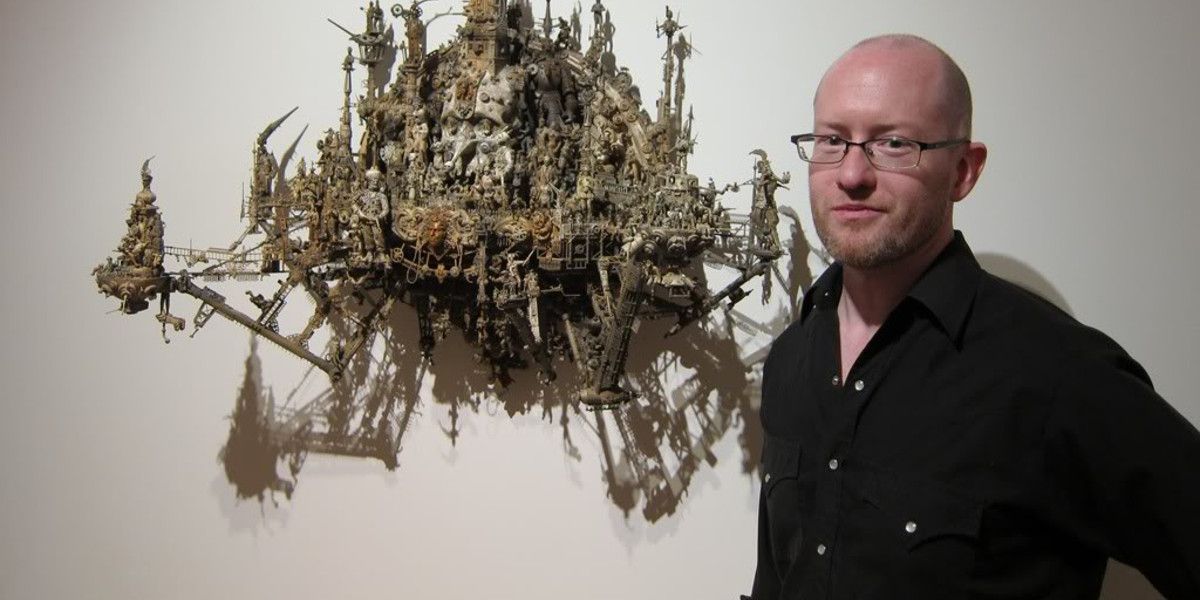 'Classical surrealist' is another attempt at describing the hard to capture in words style of Kris Kuksi. He is an accomplished painter also known for intricate drawings like these:
He is gaining a much wider (and high profile) audience of admirers and collectors of his work featuring… assemblages. His approach is to cut and reshape old objects, small toys, mechanical components and other parts and refashion them into works of art that bear little resemblance to the original appearance. A wide range of materials are utilized, including model parts, wood and metal. Collectors of Kuksi pieces include Kay Alden, actor Robin Williams, musician and director Fred Durst, director Chris Weitz, director Guillermo del Toro, and Nike CEO Mark Parker.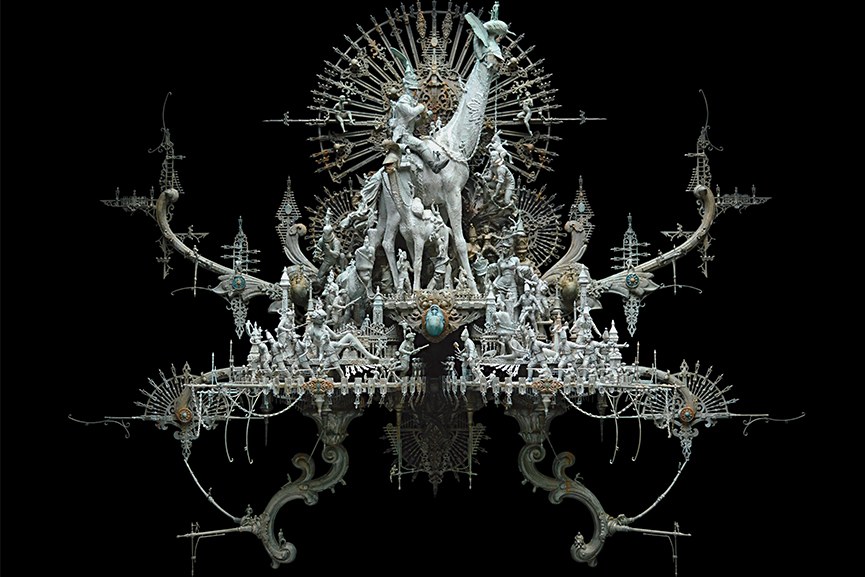 The artist describes these as 'mixed media' that are melded by "a flowing composition and visual balance."
Kuksi's work often combines images in disconcerting ways, such as "Churchtank" which merges images of religion and warfare.
The artist collects material from around the world for the assemblages, with components coming from Ukraine, Germany, Prague, Philippines, Lithuania, Japan and Singapore. Items are either bought in person or delivered to his studio in Hays, Kansas.
In an interview, Kuksi named Bernini, Bosch and Bruegel as some of the artists he admired and was influenced by saying, "Nothing beats landscapes of hell, twisted contorted figures, hedonism, and flowers sprouting from anuses."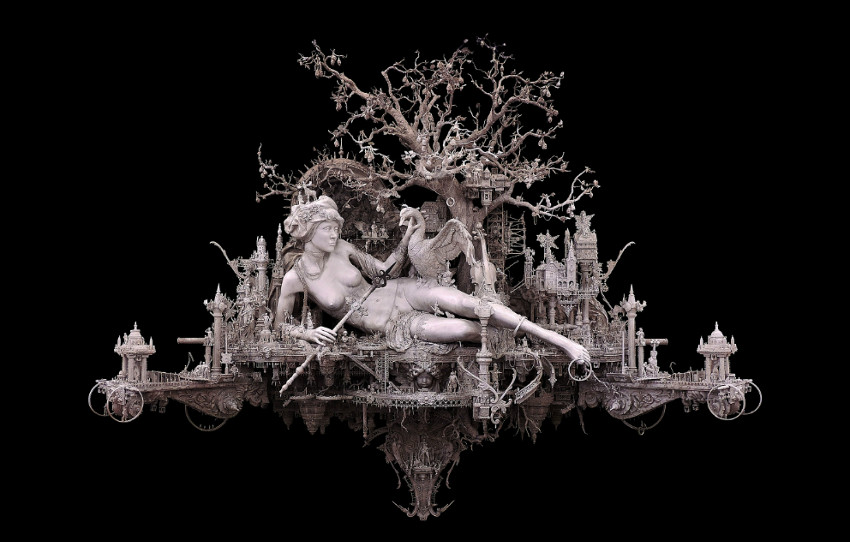 Kuksi has described how the world is "Overpopulated, losing precious resources, de-moralized, and polluted. If the Earth were a person she would be quite ill, infected with a sickness known as humanity."
The level of ornate intricacy is astounding, inviting the viewer in closer to discover more and wander through his creations. They are simultaneously uncomfortable and awesome to behold.
Referring to religion, he has suggested that an attachment to the apocalyptic "end times" described in the biblical Book of Revelation may result in humanity causing such prophesies to become self-fulfilling. Kuksi has said that "…humanity is doomed if they can't see the result of repeated historical rise and falls. Perhaps it is as simple as we just aren't smart enough to save ourselves."
If you are wondering where such inspiration springs from… like most artists, isolation and boredom. A lack of stimulation, from either technology in the form of television or from social interaction with other people fostered Kuksi's imagination. The artist has described how, living in an isolated, rural part of Kansas, there was little external stimulation or distraction and he "drew and ran amuck outside imagining worlds within my head."
There are some messed up silly worlds in Kris Kuksi's head. Beautiful, breathtaking, sophisticated and complex disturbing worlds….
To see more of Kris Kuski's work, check his website at: www.kuksi.com